Lifestyle to Prevent and Reverse Heart Disease, Lose Weight and Preserve the Environment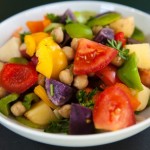 Despite the overwhelming evidence supporting the health benefits of a low-fat, plant-based diet, it took a near death experience to change my lifestyle. Researchers have found that cutting fat and animal products from our diets can actually reverse heart disease. After my heart attack, I dedicated myself to improving my health. I followed the diet outlined on this website and in our book to prevent and reverse heart disease. I took up yoga, ramped up my exercise routine, and learned how to control stress. I lost 25 pounds, dropping to an athletic 13% body fat. I started talking to my patients about this, and I've been encouraged by the impact this lifestyle has made on them. My wife and I wrote this book and put this website together to help more people improve their health and lose weight– and as an added benefit, we help the planet, too. More information is available on the posts in this site. Together, we can change the world one meal at a time.
– Rajiv Misquitta, MD, CPT (NASM), RYT (200)
Praise for the Book 
Dr. Cathi Misquitta and Dr. Rajiv Misquitta have combined their expertise in an outstanding book not only for patients with heart disease but for the health of the planet as well.  The recipes are easy to follow, contain NO oil and help show how delicious plant based eating can be.
— Caldwell B. Esselstyn, Jr., M.D.
author of Prevent and Reverse Heart Disease
What is good for the health of your heart is also good for the health of the planet—and taking care of both is worth the effort. Doctors Cathi and Rajiv Misquitta show you how it's done in their new cookbook Healthy Heart, Healthy Planet. Paging through the book and looking at all of the delicious recipes, you can't help but want to get into the kitchen and start cooking. Don't suppress that urge. Get the book and get going. These recipes might save your life, and they'll surely help save the environment.
— Neal Barnard, M.D.
Nutrition researcher, New York Times bestseller author and health advocate
I loved reading Healthy Heart Healthy Planet.  Dr. Rajiv Misquitta and his wife Cathi have done a wonderful job at distilling the science behind a plant-based diet and creating delicious recipes that show us how to put it to practice.  This book belongs in every kitchen.  But read it cover to cover first.
-Dan Buettner  New York Times Bestselling author of The Blue Zones Solution: Eating and Living Like the World's Healthiest People
In his book, Healthy Heart, Healthy Planet, Dr Misquitta has a strong personal story to tell. His travails make the book and its information very powerful. I experienced my own "shortness of breath" just reading his accounts of multiple hospital admissions and thinking how he felt each time. He has a compelling personal story to relate.The book is easy to read and understand. Both Dr. Misquitta and his wife, also Dr. Misquitta, explain the nutritional science in layman's terms but still scientifically valid for those in the health care field to appreciate. The authors offer sound reasons and practical tips for starting a plant based diet. They do this with humor, personal engagement and insight.Dr. Cathi Misquitta adds the practical "how to" in the kitchen. It is vital for someone contemplating a vegan diet to have easy recipes with what you can eat rather than being told what you cannot eat. I loved the shopping list provided to help get the pantry stocked and ready.I enjoyed reading this book and learning more about how a plant based diet can heal the earth as well as our own health. I highly recommend adding this book to your "kitchen and health" library!
-Neil Cooper, MD. Atlanta, Ga
Neil is a health advocate for his medical group, a certified personal trainer and 100% plant based.