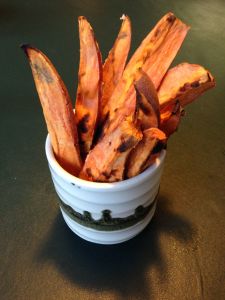 We got some organic yams in our CSA box this week, and I wanted to try something a little different. These delightful wedges combine all the flavors, sweet, sour, salt, and umami.
4 yams, scrubbed and sliced into quarters lengthwise
2 tbsp. miso paste
2 tbsp. pickled ginger
3 tbsp. lemon juice
2 cloves garlic
1 tbsp. water
Line a baking sheet with parchment paper. Place wedges on paper and bake at 375F for 40 minutes. Meanwhile, combine miso, ginger, lemon juice, garlic, and water in a blender until completely smooth. Test yams with a fork to make sure they are done baking. Pull the yams out of the oven, turn it to broil, and baste the wedges with the blended sauce using a pastry brush. Broil for 3-4 minutes – watching to ensure they don't burn.