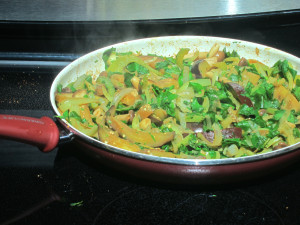 This week we got a beautiful, purple eggplant in our CSA box. (CSA stands for community supported agriculture. When you sign up to be a member of a CSA, you will generally be charged a monthly fee for which you will receive a box of local fruits and vegetables either delivered to your doorstep once a week or to a community location. Some farms let you customize your box. Others do not. We love the variety we get each week – especially if we get something new!)
When purchasing tortillas for this recipe, be sure to watch the ingredient list. Many tortilla brands contain oil, shortening, or lard. (Fat is more commonly included in flour tortillas than corn tortillas.) This recipe goes well with a chipotle salsa, but if that is too hot for your palate, feel free to use the salsa of your choice. Many substitutions can be made in this recipe. While I've included gypsy peppers (another CSA delight this week), shimeiji mushrooms (because I had them on hand), and beet greens (also in my fridge), you could easily use bell peppers, button mushrooms, and any dark green leafy vegetable such as kale, mustard greens, or chard.
1 large onion, sliced
4 gypsy peppers, seeded and sliced
1 medium globe eggplant, cut lengthwise into strips 1/2 inch wide x 1/2 inch tall
1 bunch beet greens (separated from stems, which can be diced and added to the meal)
1 1/2 c. shimeiji mushrooms
1/4 c. lime juice
1/2 tsp. cumin
1/2 tsp. coriander
1/4 tsp. red pepper
1/2 tsp. salt
1/2 bunch cilantro leaves, chopped
corn tortillas
chipotle salsa
black beans or non-fat refried beans
In a large, dry, nonstick skillet, sauté onion, peppers, beet stems, and mushrooms. As the vegetables begin to soften and caramelize, add the lime juice to lift the browning and steam the vegetables. Add the spices and cilantro and cook for one minute. Stir in the beet greens until wilted. Remove from heat. Serve in tortillas with salsa. To round out the meal, consider serving with black beans.