As a certified personal trainer and corrective exercise specialist, I recommend following the principles set up by the National Academy of Sports Medicine (NASM), which combine cardiovascular exercise and weight training with every workout.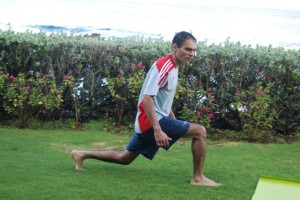 Always check with your physician before starting an exercise routine.
All workouts should start with five minutes of a light warm-up such as walking. This slowly warms up the muscles and improves flexibility, reducing the risk of injury. To reduce the risk of heart attacks, the American Heart Association recommends forty minutes of moderate-to-vigorous aerobic exercise three to four times per week. At the end of your exercise routine, cool the body down over five minutes by doing a less strenuous form of exercise, such as walking at an easy pace. Stretching at the end of an exercise can also help reduce cramping or soreness, especially when exercise hasn't been part of your daily routine. Stretching should feel good, not painful.
Once you have decided to maintain a healthy lifestyle, the first step is assessing how much you do. A simple device such as a pedometer can reveal the number of steps you take a day and provide you with a rough gauge of your physical activity. According to a study in 2010, the average American man takes approximately 5,000 steps a day. Completing 10,000 steps is considered an active lifestyle. To be successful, one must first devote time to exercise. It's simple math. There are 168 hours a week. Out of that, the average person works for 40-50 hours a week. We should sleep for 56 hours a week. Assuming we take one hour for meals, that works out to 21 hours a week. That leaves us with 41 hours to do anything else, including exercise. If you committed 30 minutes six days a week to exercise, that would only equal three hours. I think mo