Sambar with Okra and Green Beans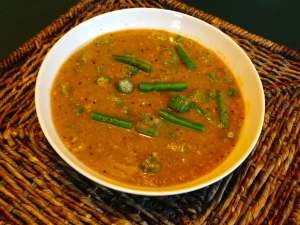 This Indian dish is not as spicy-hot as you would get in an Indian restaurant, but it is much lower in oil – as this recipe uses none.
2 c. red lentils
8 c. water
3 tbsp. tamarind concentrate
3 tbsp. sambar masala
1½ tsp. salt
1 onion, diced
20 oz. okra, cut into ½ inch lengths (or thawed frozen)
1/2 lb. fresh green beans, tips and tails trimmed, cut into 1-2 inch lengths
Wash lentils. In a large pot, boil water, add lentils, and then turn heat down to medium. Leave uncovered and cook until lentils are soft, roughly 2 hours. Mash lentils (or use immersion blender) and add seasoning and vegetables. Cook until vegetables are al dente and onions are translucent. This can be served as a thick stew or served over brown rice.